☆ Book Kit:3D Modeling with Tinkercad for 3D Printing - To Space ☆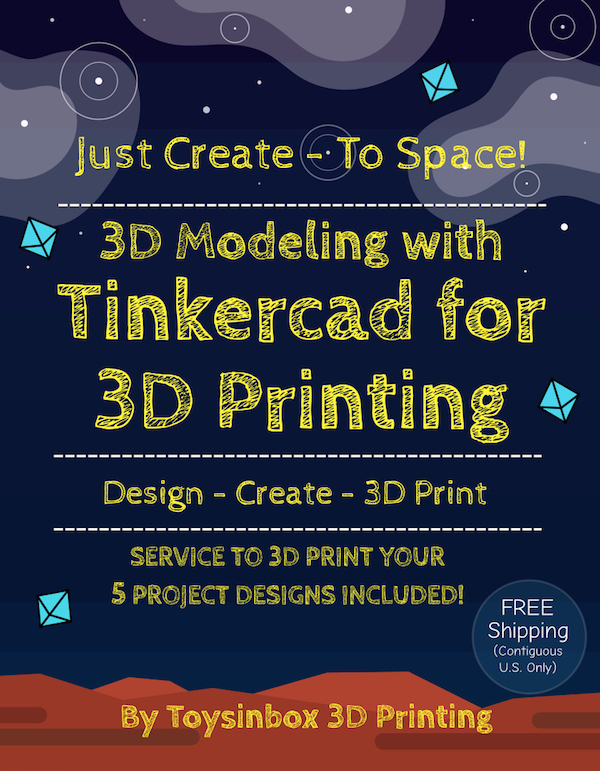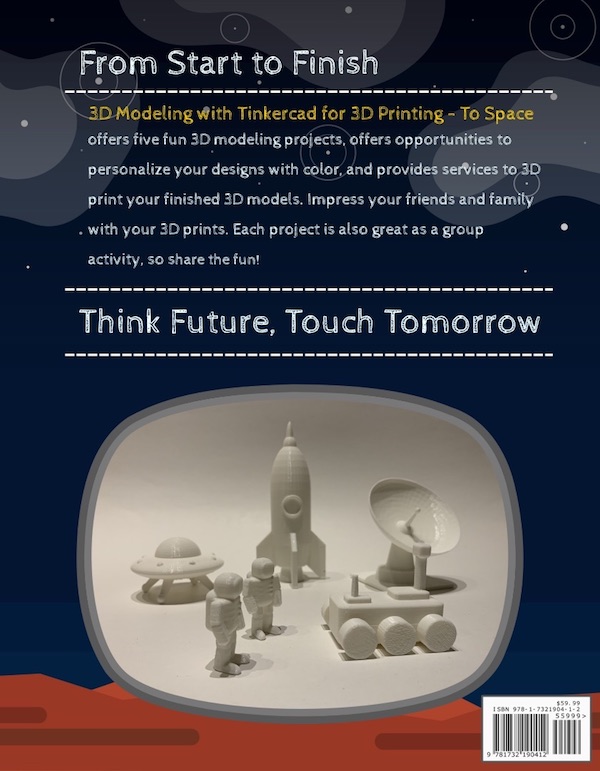 ISBN: 978-1-7321904-1-2
Price: $59.99
Age: 8~99
Make Payment via Paypal
---
Buy Now button for Tax exempt non-profit origanization buyers.
---
Buy Now button for buyers who need to pay MA sales tax.
---
☆ Book Kit: 3D Modeling with Tinkercad for 3D Printing ☆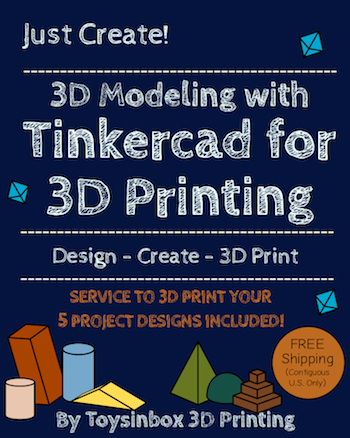 Do you think it's intimidating to design in 3D? Are you interested in 3D modeling but don't have a 3D printer or don't have the time to take care of a 3D printer? If your answers are YES, this book kit is perfect for you. It is our first book kit and was just formally released. It has lots of colorful pictures, easy to follow instructions and is in hardcover.
 
  Using this book kit, you'll earn Tinkercad, a free and easy-to-use 3D CAD design tool, to quickly create 3D models. We'll use professional desktop 3D printers to print your designs. Also, we'll ship the 3D prints to your address in the 48 contiguous states free of charge. In short, you take care of the 3D modeling; we take care of the 3D printing. What a cool and fantastic experience! Why not join in the fun?

Toysinbox 3D Printing has been invited multiple times by many libraries to host 3D modeling and 3D printing workshops to children, teens, and adults. Also, Toysinbox 3D Printing has been regularly teaching 3D modeling and 3D printing enrichment classes in elementary and middle schools and in our store since 2015.


You can buy a copy from our store located in 1 Cameron Street, Wellesley, MA
or pay online via PayPal by clicking the BUY NOW yellow button below.
We give you the book kit along with the printing code. Also, when you
finish, email us your designs along with your 3D printing code, we will 3D print your designs
and ship them to you within 3-5 business days. Free shipping if you live in 48 contiguous states.
Look inside the book here!

Tinkercad is a free online 3D design and 3D modeling tool. It belongs to Autodesk. Tinkercad has a free interactive online tutorial. Highly recommend you give it a try.

Copies of this book are in the following public libraries. Please contact the libraries directly if you want to borrow a copy.
If you already have access to the book and only need the printing code, please Click here.
Front Cover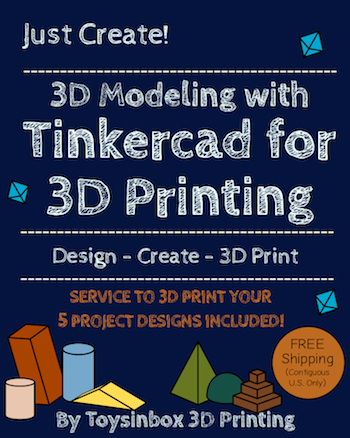 Back Cover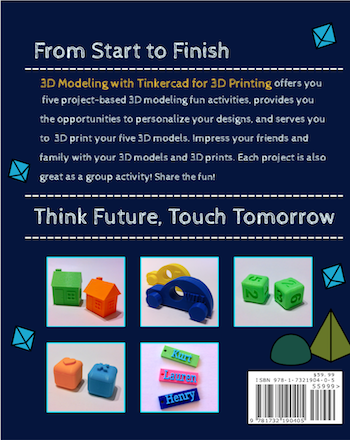 ISBN: 978-1-7321904-0-5
Price: $59.99
Age: 8~99
Make Payment via Paypal

If you already have access to the book, and only need the printing code, the charge is $29.99 which includes free shipping the 3d prints back to you within 48 continental states. Please email us at info@toysinbox.com for shipping charge if you lives outside 48 continental states.
Once we receive your payment, your 3D printing code will be emailed to you.


Extra 3D Printing Code Purchase
Price: $29.99
Make Payment via Paypal